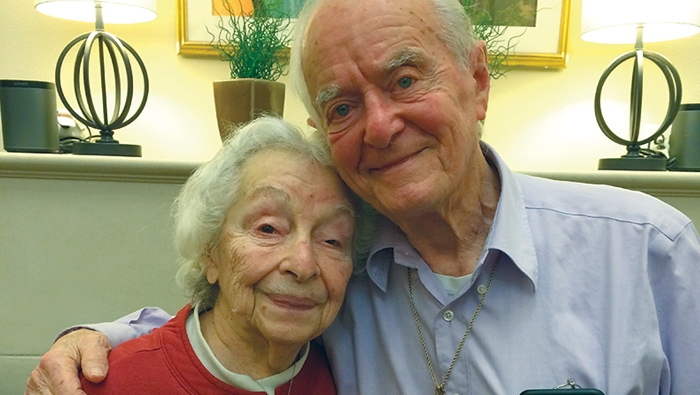 Dan Ross was in the trucking business in New York City in the early 1950s and, while it paid the bills, he didn't enjoy it at all. Married, with a 3-year-old daughter, he was contemplating his options one day while riding the subway. What should he do? What did his future hold?
Then he looked up – and wham! There it was! An ad for the Radio and Television Institute screamed "Television Needs YOU!" All it lacked was a picture of Uncle Sam, but Uncle Sam stepped in anyway in the form of the GI bill that financed Dan's education for his new career as a television stage technician. He learned to operate cameras, manage the lighting, supervise props … he could do practically anything happening behind the scenes.
One could argue that television in the early 1950s was changing at a pace comparable to what is happening with cell phones today. In those early days of TV, the television schedule was pretty robust: five stations! (although they all went blank after their late-night shows.) There were live shows, but they were only live where they were actually produced. Stations farther away had to wait for a tape of the show to be shipped. AT&T, however, was about to complete the transcontinental co-axial cable that would enable a show broadcast in New York to air live in California. Most shows were still in black and white, but color television was clearly the next innovation; the FCC was contemplating which technology to approve to broadcast the new mix of color and black and white programs. An exciting time for sure for a newly minted stage tech!
Everything in New York, though, was unionized, and Dan couldn't find work. With Marion eight months pregnant with their second child, Dan decided to check out LA. Hollywood! Burbank under construction! He found that NBC was about to start productions at the El Capitan Theater that would be broadcast live on both coasts, thanks to the new co-axial cable. They were hiring 14 new people for the launch, so Dan set his sights there. Dan, however, didn't go through personnel. Oh, no, not Dan. Instead he found out who was in charge of staging operations and called the man directly. Dan became one of the 14 hired, and the family headed west.
Dan and Marion told me about those years while Dan swiped through his iPad and showed me photos. Marion stayed home at first to raise their three children but later found a career as well, starting as a part-time playground monitor at the kids' school and working her way up to eventually become an executive at the school district. Throughout his long career, Dan worked on historic shows with many of TV's greats. He spent time with both the "Eddie Fisher Show" and the "Dinah Shore Show" ("she was a warm, friendly person," Dan says). He was even the property guy who was in charge of the duck on Groucho Marx's "You Bet Your Life."
For you youngsters, Groucho's show was a quiz-slash-comedy show featuring Groucho's famous ad libs and plenty of laughs. The duck was a pitiful stuffed thing designed to look a little like Groucho himself. Before each show, Dan and the director would decide on the day's "secret word." Then Dan listened to the show on a headset, and when someone said the secret word, Dan used a pulley to drop the duck down and surprise everyone. Another man would blow the trumpet, and the contestant would win $100. Back then, $100 was real money!
His big break, however, came in 1972 when he was a lighting specialist on "Days of Our Lives." "Tonight Show" producer Freddie de Cordova was as frustrated as Johnny Carson was with the difficulty of getting Hollywood talent to fly all the way to New York, even for an appearance on the popular show. He promised Johnny: if you relocate to Hollywood, I'll get you all the talent you want. In the new LA studio, however, the "Tonight Show" crew was having trouble with the lighting.
"When Johnny wanted to introduce someone," Dan says, "he didn't like having to wait for lighting to catch up to his pace. He said, 'I never had this problem in New York.' " Worried that Carson would move the show back to New York, the lighting supervisor came to Dan for help. Dan jumped at the chance, although during his first day on the new job, he had to ask someone to point out Johnny Carson. "They were surprised, but I had never watched the show because I was working all day long," Dan says.
Dan found they had a huge lighting board with hundreds of plugs, but it would need a major overhaul. Dan went in after hours, on his own time, pulled out every single plug and started from scratch. "Either it's going to work, or they're going to fire me," he recalls thinking. "I changed it contrary to how it's usually done, and I thought, 'Theoretically it should work.' We tried it out that night … live! … and it worked perfectly. Johnny stayed in Burbank, and the rest was history." When Dan retired in 1986, Carson brought him on set to congratulate him and to thank him (Carson called him "Danny"). Ask him to show you the video. Ask him to show you his Emmy!
Even in retirement, Dan can't get away from lighting. He and Marion moved to Portland to be near their children, and he worked part time at Oregon Public Broadcasting. They said their lighting wasn't working well, and he said "No wonder! It's ancient!" They asked him what they should buy to upgrade, and he helped set it up.
Dan had congestive heart failure two years ago, with a grim prognosis, and at his age he was not a candidate for surgery. By a combination of luck and tenacious research, though, he found Dr. Korngold at Providence St. Vincent Medical Center, who agreed to perform an innovative, non-invasive procedure on Dan. It worked so well that Dan and Marion stood up and danced for the doctor at their follow-up visit.
Today Dan, Marion and their dog, Precious, live an active life at the Rose Schnitzer Manor in Portland. Marion says she does miss having her own home, but they stay involved both with their friends and in their new community. They like their apartment, and the people, they say, "bend over backwards to make you happy." From what I can tell, they have hardly slowed down a bit.
Dan is 94 and Marion is 90! If you run into them at the Manor, please wish them a happy 70th anniversary. He's probably the guy looking up at the lighting fixtures, thinking, "Hmmmm. I know I could improve this."
Liz Rabiner Lippoff is a marketing consultant, freelance writer and community volunteer. LizInk.biz