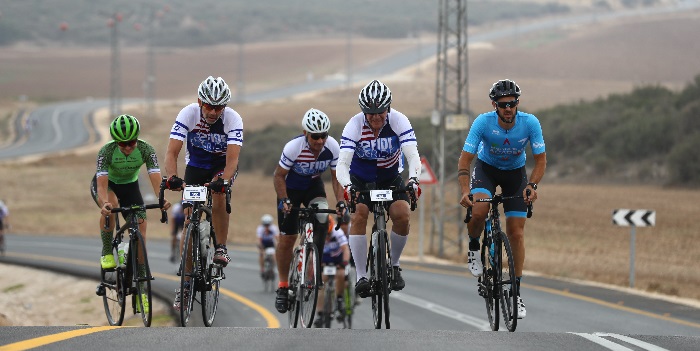 PHOTO: Members of the Israel Cycling Academy with IDF veterans who were helped through the FIDF Strides program. Photo by Gilad Kavalerchik
Supporters of Friends of the Israel Defense Forces concluded an intense six-day bicycle ride through Israel last week. Joining the American FIDF supporters for this cross-county ride, which began on Oct. 13, was a group of wounded Israeli combat veterans who have benefited from FIDF rehabilitative programs and prosthetic devices, and Israeli pro cyclists and members of the Israeli Cycling academy, Roy Goldstein, Omer Goldstein, Ido Bear, and Rotem Gafinovetz.
The 32 cyclists from across the U.S. and Canada, covered more than 250 miles and a total vertical climb of over 22,000 feet. The ride allowed the participants, all of whom are avid cyclists, to show solidarity with and support for the soldiers of the Israel Defense Forces (IDF) while they experienced Israel from the seats of their bikes.
"Biking across Israel together with wounded veterans provided participants the opportunity to really understand the impact FIDF has on the lives of the brave men and women who benefit from FIDF programs," said FIDF Midwest Executive Director Tamir Oppenheim. "This cycling tour was an incredible opportunity to bring FIDF supporters together with Israeli soldiers, and for these American cyclists to explore Israel in a fun and challenging way."
Beginning with a ride along Israel's border with Lebanon and a trek through Upper Galilee, the cyclists then headed south, riding through the Golan Heights and the Ramon Crater in the Negev Desert, before finally finishing in Jerusalem. Along the way, the group visited national landmarks, ancient historic sites, and Israeli military bases. The participants met active-duty soldiers serving on these bases, Lone Soldiers who serve in the IDF with no immediate family in Israel, and combat veterans who benefit from the FIDF IMPACT! Scholarship Program.
FIDF was established in 1981 by a group of Holocaust survivors as a 501(C)(3) not-for-profit organization with the mission of offering educational, cultural, recreational, and social programs and facilities that provide hope, purpose, and life-changing support for the soldiers who protect Israel and Jews worldwide. Today, FIDF has more than 150,000 loyal supporters, and 20 chapters throughout the United States and Panama. FIDF proudly supports IDF soldiers, families of fallen soldiers, and wounded veterans through a variety of innovative programs that reinforce the vital bond between the communities in the United States, the soldiers of the IDF, and the state of Israel. For more information, please visit: www.fidf.org.