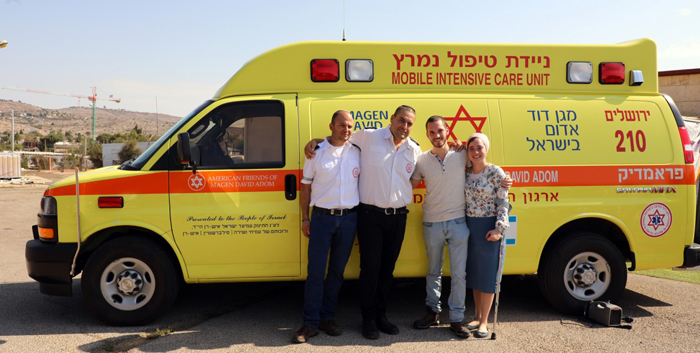 On Oct. 16, a new Mobile Intensive Care Unit ambulance of Magen David Adom was inaugurated in memory of the late Amiad Yisrael Ish-Ran, who was killed as a result of injuries his mother sustained in a terror attack in Ofra, Israel, in December last year.
Shira and Amichai Ish-Ran, Amiad's parents, were wounded in the horrific attack. Shira was in the 30th week of pregnancy.
MDA teams administered lifesaving medical care and evacuated them to a nearby hospital, where doctors performed an emergency cesarean section to deliver the premature baby. The newborn passed away three days later. His parents gave him the name Amiad Israel.
The Mobile Intensive Care Unit ambulance (MICU), in memory of Amiad Israel, will be operating in the Jerusalem area. It was given by Florida-based donors to American Friends of Magen David Adom, who heard the story of the attack and the family's travails from Shira Ish-Ran's father, Haim Silverstein, and could not remain indifferent.
Shira and Amichai Man Ran, said, "This Mobile Intensive Care Unit is another example that symbolize the difference between us and the terrorists and the spirit they spread among their people. While they murder and glorify death, and those who have died trying to murder are considered heroes, we sanctify life, and guard them.
"Our protagonists are the ones who protect life and those who save them, and of course those who help and work so hard to do their work faithfully.
"While they tried and succeeded to eliminate life, we have gathered today, more than 10 months later, to inaugurate a significant means to save life.
"We hope, God willing, to use it only for happy occasions, and the dear MDA teams we bless in a prayer that 'the angels will guard you all your way.'"
Haim Silverstein, father of Shira Ish-Ran and Amiad's grandfather, said, "We were very excited to hear about the noble and beautiful gesture of donors from American Friends of Magen David Adom, who have decided to donate a Mobile Intensive Care Unit in memory of Amiad Israel. We continue to be grateful, to MDA for the long-term activity in the Jerusalem area and throughout the country. We hope that this MICU will only be used for births.
"The whole family deeply thanks the donors for their sensitivity, kindness and generosity."