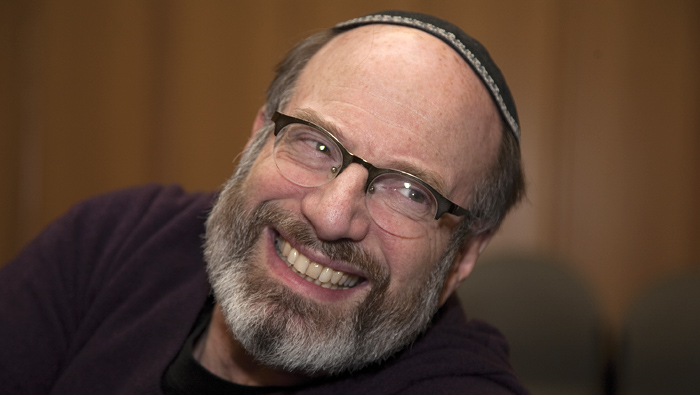 When Rabbi Joey Wolf moved to Portland in the late 1980s, Portland's synagogues were known as "The Big Three" – Beth Israel (Reform), Neveh Shalom (Conservative) and Shaarie Torah (traditional). But there was an emerging fourth, Havurah Shalom, which hired Rabbi Joey in 1987. Over the last 30 years, Rabbi Joey has shepherded HS through numerous changes. This month, Havurah and Wolf celebrate his 30-year tenure with a weekend of events, which will launch Rabbi Joey's retirement.
A native of Boston, Rabbi Joey was ordained in the Conservative Movement, after attending Brandeis University and the Jewish Theological Seminary in New York City. In his first posting as a senior rabbi, he served Agudas Achim, a large Conservative congregation in Austin, TX.
"It was a generic large synagogue," Rabbi Joey says. "I was a necktie rabbi and I didn't like it. I felt really constrained; there were so any expectations about what a rabbi was and what kinds of work and relationships I was expected to fulfill."
In 1987, Rabbi Joey heard about an opening at Havurah, flew up to interview and, to use his word, was immediately "enraptured." He adds that "I couldn't believe the colorfulness of people, their questions, what they cared about, what was important to them. I was blown away. I said, 'This is where the work is.' "
When he arrived, Rabbi Joey found the members of his new community (affectionately known as 'Havurahniks') "spontaneous, unendingly imaginative and audacious, both spiritually and politically. There were always wonderful people bursting the seams of Jewish life, whether creating a new prayer, doing a dance, taking us to new places to pray, going on a hike, or bringing together people with disparate interests, like astrology. Services weren't some standard brand form."
In those days, HS did not have its own building and held Friday night services at the Mittleman Jewish Community Center. "We averaged between 40 and 50 people per service, and our demographic skewed young; the average age of the people was 29-30. It was a different kind of spiritual experience."
One central facet of Havurah Shalom is its conscious choice to highlight its community identity, as its name suggests, rather than its rabbi.
"That was music to my ears," says Rabbi Joey. "There's a lot of intention in congregants saying, 'We want to be in the driver's seat. We want to demand of ourselves that we lead our own services, that we figure out what counts in Jewish life, living, worship, etcetera.'" Although Rabbi Joey has been a full-time rabbi, he led services only twice a month, which allowed congregants to take on that role on both Friday nights and Saturday mornings. This lay-led model extends to holidays and festivals, as well. Another important aspect of Havurah's community is the diversity of its membership, particularly its interfaith couples.
"We want to honor the non-Jewish partners, and we want them as leaders who are as committed and respected as any member," says Rabbi Joey. "Performing interfaith marriages was central to that commitment. I was ambivalent about going against the Conservative party line on interfaith marriages, but I recognized that this was part of the future of Jewish communal life."
Over the years, Havurah grew, albeit gradually. Multigenerational approaches were developed, along with a Shabbat School and Havurah High. In the mid-1990s, Havurah experienced two major changes: the community acquired its own worship and communal space, a former warehouse in Northwest Portland, and Havurah changed its affiliation, at Rabbi Joey's suggestion, from Reform to Reconstructionist.
"I pointed out we weren't really Reform," he recalls. "Our MO was democratic and egalitarian, and our style was more in line with the Reconstructionist Movement."
In some ways, Rabbi Joey's Conservative inclinations have made Havurah somewhat atypical among Reconstructionist congregations. When he began Havurah's Saturday morning minyan, he deliberately chose a traditional service model. "I was trying to figure out a way to give people skills in chanting Torah and learning trope. I also wanted us to have traditional liturgical services, so our people would be Jewishly literate wherever they go."
Today, Havurah's community has a high rate of Hebrew literacy and is equally comfortable with traditional or contemporary styles of prayer, something in which Rabbi Joey takes great pride.
Just as Havurah has evolved, so has Portland's Jewish community.
"When I first came, there were four rabbis in Portland besides me: Rabbi (Joshua) Stampfer, Rabbi (Emanuel) Rose, Rabbi (Yonah) Geller and Rabbi (Moshe) Wilhelm," says Rabbi Joey. "Today we have something like 25 rabbis." Jewish institutions such as Portland Jewish Academy and Rose Schnitzer Manor grew and thrived, as well.
"Jewish community was centralized when I came," he says. "It is no longer suffering from the illusion that 'we are all one.' We are many and that's a good thing. I'm talking institutionally, but also geographically. Jews no longer live exclusively in Southwest Portland."
Jewish priorities have also shifted. "In the middle to the late 20th century, American Jews were obsessively focused on the Holocaust and Israel," he says. "Today we know that those two issues can't be the only drivers of Jewish identity. To prioritize these issues exclusively does not make sense to today's Jews. We're concerned with global issues and responsibility to other communities with whom we interact. We also care about environmental issues, homelessness and immigration."
Rabbi Joey and his wife, Lisa Rackner, will remain in Portland after he retires. "I've always considered people in Havurah to be my closest friends," says Rabbi Joey, "but my immediate plan is to step back and get out of the public eye. I'm an introvert and I took a job that is essentially extroverted. I want to continue to do the things I love: reading, writing, study, cooking, hiking, yoga. I might even start up piano lessons again. In a couple years I'll just be a Jew in the pew and join the minyan."
Elizabeth Schwartz is a Portland freelance writer.
Rabbi Joey Wolf's Retirement Celebrations
All events, except retirement dinner, will be at Havurah Shalom, 825 NW 18th Ave., Portland.
April 15, 4:45 pm: Havdallah with Shabbat school, middle school and high school families
April 20, 6-9:30 pm: Retirement Dinner and Celebration, Mittleman Jewish Community Center, $54,
registration required at havurahshalom.org/RabbiJoey
April 21, 7:30 pm: Shabbat Evening Service and Oneg Shabbat honoring Rabbi Joey with Rabbi Levi
Weiman-Kelman of Congregation Kol Haneshema in Jerusalem
April 22, 10 am: Shabbat Community Minyan and Potluck Lunch
For more information: havurahshalom.org