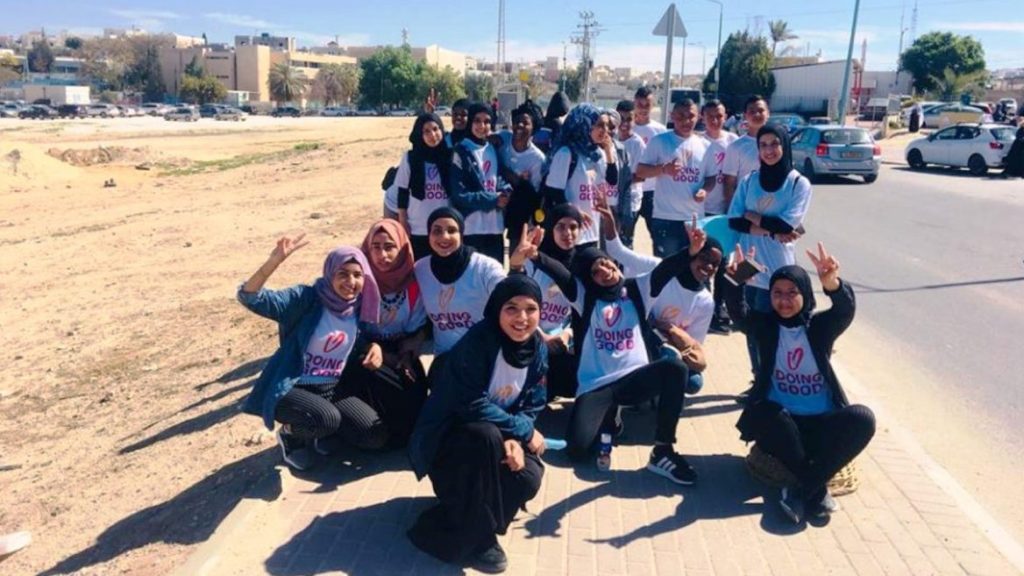 PHOTO: At-risk Bedouin kids from A New Dawn taking part in Good Deeds Day.
'Change will only come through working together. We are less powerful if we are separate,' says founder of social program in Israel's South.
By Brian Blum
Israel 21c
The 30 young men and women studying software development, graphic design and 3D printing at Yeruham's high-tech incubator last month did not seem out of place in the Startup Nation. But for at least half the participants, it was a new world.
The two-week Tech2Peace seminar was sponsored by A New Dawn in the Negev, a nonprofit organization founded in 2009 to improve the quality of life for Israel's Bedouin community. Some 130 candidates applied. Half of those accepted were Bedouins and other Arab Israelis; the other half were Jewish residents of Israel's south.
The integration of the two populations in the seminar was intentional, says Jamal Alkirnawi, the 39-year-old founder and CEO of A New Dawn. "Change will only come through working together," Alkirnawi tells ISRAEL21c. "We are less powerful if we are separate."
That's been Alkirnawi's modus operandi since he started A New Dawn, following a seven-year position as the academic counselor for Arab students at Ben-Gurion University (BGU) of the Negev.
"Arab students face a lot of difficulties because they usually live with their families in their communities until the age of 18," Alkirnawi says. "So when they get to university, it's often the first time they're exposed to Israeli society, to being an Israeli citizen. It can be shocking."
Alkirnawi grew up in the Bedouin town of Rahat and founded A New Dawn there with the aim of exposing fellow Bedouins to what he calls the "outside world" at a young age.
The organization has established programs in and around Rahat. In addition to the high-tech training program in Yeruham, there's a club for at-risk youth, an afterschool classical music program dubbed "Strings for Change" (Sarab in Arabic), filmmaking classes and even a "cultural tour guide" course which Alkirnawi hopes will bring Birthright and Masa Israel Journey groups to Rahat to experience Bedouin hospitality.
The need for programs like those A New Dawn offers is urgent: About 140,000 Bedouins reside in the Negev, and more than 40% of them earn less than the minimum wage. The high-school dropout rate is 35% and only 30% of students earn a full diploma. A New Dawn cites figures that only 5% of the Bedouin population is qualified to study at the university level.
In high-tech, only 3% of Israel's 270,000 workers are Arab Israelis.
A range of governmental and non-governmental programs aim to boost those percentages. Hadassah Academic College in Jerusalem, for example, offers pre-academic programs for Arab students. Nonprofit organizations such as Tsofen work with the Israeli government to integrate more Arabs into the high-tech sector, mainly in the north.
A great nomad
Alkirnawi is a Bedouin success story. He received his undergraduate degree in public health administration from BGU, a master's in social work with a specialization in peacebuilding and civil society from McGill University in Montreal, then returned to his alma mater to earn an MBA in social leadership.
"I was always a great nomad," Alkirnawi says, referring to his career path but also perhaps to the traditional Bedouin way of life.
Alkirnawi's academic travels exposed him to students from around the world and that's become a big part of A New Dawn's agenda. The organization brings international volunteers to Rahat.
They teach English and other subjects, but more importantly, they help "break the stereotypes of what different people are like," Alkirnawi says. "It creates curiosity and questions, until people get used to being around outsiders who maybe have blue eyes and don't know your language."
Many Bedouin youth "have never seen Westerners or Jews," he adds. "They never used the Hebrew language. It is as if they are not even living in Israel."
An emotional first-aid hotline – the first of its kind in Arabic – with 25 volunteers will launch in the coming months.
All told, some 1,500 people have been through one of A New Dawn's offerings. But it's the programs for at-risk youth of which Alkirnawi is most proud.
"Seventy percent of our graduates are integrated, whether that's continuing with higher education, volunteering or sherut leumi," Alkirnawi says, referring to Israeli national service.
A New Dawn has a staff of 16. Funding comes from a variety of organizations including the Israeli Ministry of Education, the New Israel Fund, Children of Peace, the Tsadik Fellowship, Israel's Bituach Leumi (Social Security) and the Ted Arison Family Foundation.
Tech2Peace is also supported by YadBeYad, the Konrad Adenauer Foundation and the World Zionist Organization.
The just-concluded seminar in Yeruham is small, but it's a start.
"The Bedouin sector is not full of technological hothouses and high-tech initiatives," says Kusai al-Amur, 20, one of the program's participants. "This is an excellent opportunity for anyone who takes part in it to integrate into the technological world."
And, for that matter, into life in Israel.
During the program, participants shared meals as well as cultural and social events in the evenings. Discussions on the Arab-Israeli conflict were run by professional Jewish and Arab moderators so that all sides are "exposed to the complexities" of the region and will begin to "recognize that it's not black and white," Alkirnawi explains. "Ideas have no nationality."
Alkirnawi is under no illusions that two weeks will entirely transform the situation for Bedouins in the Negev. But this is just phase one, he says, and it can lead "to a better future for the South; a future based on a deep understanding of the 'other side.' This is just the beginning."
For more information, click here.