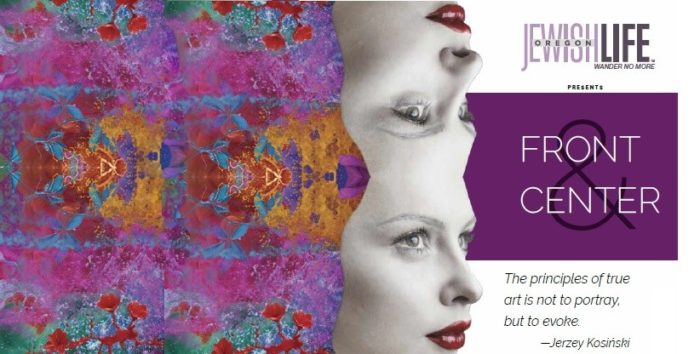 BONHAMS
Sheryl Acheson
Portland
Sheryl.acheson@bonhams.com
971-727-7797 or 503-312-6023
One of the world's oldest and largest auctioneers of fine art and antiques. Bonhams' Portland regional office provides local access to the exceptional resources of our extensive global network. Whether building a collection or consigning property to our global auctions, we offer key benefits including complimentary auction appraisals, expert specialists in numerous departments, exceptional customer service, access to thousands of collectors, as well as Trust Accounting.
MITTLEMAN JEWISH COMMUNITY CENTER
Lenny Steinberg, Program Director
6651 SW Capitol Hwy., Portland, OR
503-535-3555
The Mittleman Jewish Community Centers (MJCC) offers a widerange of social, cultural educational and arts programs. Here at the J, you can attend concerts, films, lectures, exhibitions and so much more!
Deportation, 1944, Henryk Ross, photographer
OREGON JEWISH MUSEUM AND CENTER FOR HOLOCAUST EDUCATION
Judith Margles, Director
724 NW Davis St.
Portland, OR
503-226-3600
Main Exhibits: Through Sept 30: R.B. Kitaj, A Jew, Etc., Etc.; Oct. 9-Feb. 24, 2019: The Last Journey of the Jews of Lodz, An extraordinarily rare glimpse of life inside the Lodz Ghetto through the lens of Polish Jewish photojournalist Henryk Ross (1910-1991). In conjunction with Portland Art Museum exhibit of Ross photos: Memory Unearthed. Together the two exhibitions will offer an extraordinarily rare glimpse of life inside the Lodz Ghetto through the lens of Henryk Ross.
PACKOUZ JEWELERS
Rick Mahler, Owner
522 SW Broadway
Portland, OR
503-228-3111
rick.mahler@packouzjewelers.com
Established in 1917, Packouz Jewelers is a family owned and operated business in the heart of downtown Portland's historic Broadway district. Packouz Jewelers offers the finest timepieces and jewelry combined with unsurpassed customer service.
PORTLAND BAROQUE ORCHESTRA
1020 SW Taylor St., Suite 200
Portland, OR
503-222-6000
Portland Baroque Orchestra produces intimate, historically informed performances of music composed before 1840. The orchestra uses instruments and techniques accurate to the times in which composers were writing, a practice known as historically informed or period performance. PBO is one of the four largest period orchestras in the United States. In the 2018-19 Season, PBO celebrates its 35th anniversary year, and its 24th under the artistic direction of world renowned baroque violinist Monica Huggett.
PROFILE THEATRE
Aiyana Cunningham, Donor & Patron Relations
Venue: Artists Rep
1515 SW Morrison St.
Portland, OR
Mailing: PO Box 14845
Portland, OR 97293
503-242-0080
Profile Theatre is unique in that we devote our entire season to a single playwright. Our 2018-19 special double season features the work of Lisa Kron and Anna Deavere Smith. Experience the world through the lens of their work at mainstage productions, In Dialogue readings and community conversations.
THUNDERBIRD ARTISTS
Arizona
480-837-5637
Award-winning fine art & wine festivals in Carefree, Scottsdale, Surprise and Fountain Hills. Thunderbird Artists won 1st place for Entertainment/Signature Events in AZ Big Media's Ranking Arizona 2018. Patrons love the ambiance of sipping fine wine, while listening to live music and strolling throughout Arizona's finest gathering of juried artists from throughout the globe. Carefree: Nov. 2-4/Jan. 18-20/March 1-3; Scottsdale Waterfront: Feb. 8-10; Surprise: Jan. 11-13; Fountain Hills: March 8-10.