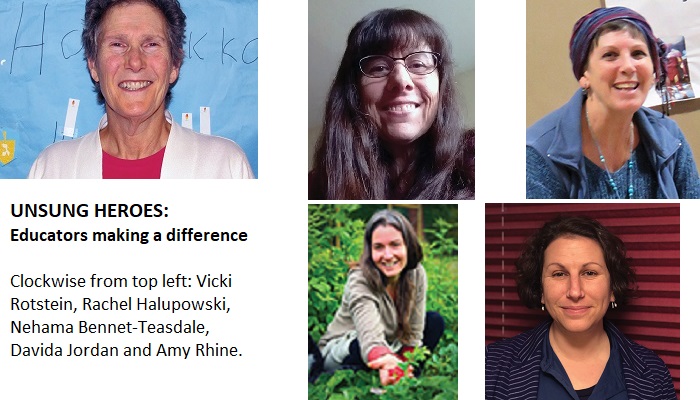 Many of the unsung heroes in our Jewish community are the Hebrew and preschool teachers," says JFGP President and CEO Marc Blattner. "Not easy jobs, but (they) play a huge role in building the Jewish future."
In recognition of the importance of educating the next generation, the Jewish Federation of Greater Portland supports Portland Area Jewish Educators, which provides ongoing professional development for community educators.
"The majority of our kids are involved in some kind of supplemental Jewish education, and it is a gateway in (to the Jewish community) for many of our families," says Rachel Nelson, who staffs PAJE.
PAJE has flourished since the federation hired Rachel as the director of educational initiatives in 2014. Now PAJE educational programs annually attract about 100 educators, including those from Hebrew schools, day schools, youth groups and camps. This year a federation grant enabled PAJE to send 12 educators to the NewCAJE national conference. A JFGP Lifestage Allocation Grant will send educators to the 2018 conference.
"The majority of the educators we sent to the national conference are connected to supplemental programs, though many do other things, as well,"
says Rachel.
So we asked congregations around the state why after-school and weekend schools are so important.
"There is so much value in Jewish education," says Congregation Shir Tikvah Director of Education Katie Schneider. "We have an incredibly rich heritage to pass on to our children.
It is a culture of prayer and folklore, a beautiful language and delicious food. We are so lucky tohave thousands of years of history and celebrations to draw on as we prepare our kids to face the future."
Rabbi Chaim Wilhelm of Chabad of Northeast Portland shares this analogy: "We planted a sapling tree in our front yard with stakes on either side to help the tree grow straight and properly. The Torah compares people to trees. As soon as we start teaching our children, we need to ensure Judaism is included to help them grow straight and tall as proud and knowledgeable Jews. Giving children positive and happy associations with Judaism helps them later in life when they have a choice of whether to engage with their Judaism."
Mel Berwin, director of congregational learning at Congregation Neveh Shalom, says, "Our congregational religious school might be the one place where a child is known in their whole-person context. We know them as learners, as family members, as community participants and as spiritual beings. Our two-day congregational school builds community among kids from across the Portland area, allowing them to compare experiences of being Jewish in their diverse school settings."
According to Shaarie Torah Education Director Dorice Horenstein, students learn much more than Hebrew and prayer skills. "They learn they are part of a synagogue and world Jewish community. Our kids learn to take responsibility for their world. They learn family is the key to Jewish life. Finally, they experience Jewish life as a source of joy and fun. We dance and we cook and we sing."
"We've been so successful in guiding Jewish children and their families over the years," says Ayala Zonnenschein, executive director of the Havurah Shir Hadash in Ashland. So the Havurah launched Wisdom Garden to share universal teachings that can be a valuable resource for all families, regardless of spiritual background, especially in these times of so much divisiveness.
"We want to bring children together to learn, to grow and thrive in our ever-challenging world. Families of all backgrounds are encouraged to participate."
Questions are key to education at Kol Shalom, Community for Humanistic Judaism, according to Children's Education Chair Walt Hellman. "Who are we? From what people and traditions did we come? Answers to these questions provide invaluable roots for our Sunday school children. We provide an enjoyable and worthwhile introduction to Judaism from a Humanistic Jewish perspective."
UNSUNG HEROES
VICKI ROTSTEIN
Vicki Rotstein is in her 28th year of teaching at Congregation Neveh Shalom. She now teaches sixth graders the Hebrew prayers of the Torah service and focuses on leadership (from ritual leadership to tzedakah to inclusion). For fun she provides materials for students to create full-size murals on the walls of her classroom relating to each holiday. More than just a passionate educator, "Morah Vicki" walks her talk about leadership, volunteering regularly with Friends of Seasonal and Service Workers, Dress for Success and CNS. Perhaps the legacy Morah Vicki is best known for is her personal relationship with our pre-teens, enjoying every bar/bat mitzvah, and lighting up the dance floor of their parties with her fancy footwork. Our school would not be what it is without her.
RACHEL HALUPOWSKI
Rachel Halupowski has taught at Congregation Shaarie Torah for three years and in Portland for 15 years. Rachel brings enthusiasm and dedication to both Congregation Beth Israel and Shaarie Torah, where she teaches youth about Mussar and ethical living. Rachel's pride in being Jewish and her love of Jewish teaching shines. Her students know she cares deeply about Jewish ideas and education – and that she cares about them. As this is Rachel's last year in Portland, we want to publicly acknowledge all that Rachel means to us. We feel very blessed that she has shared her Jewish passion with our community and are so thankful to her for what she's given our kids. (Rachel will retire and move to Vernonia after her wedding in June).
NEHAMA BENNET-TEASDALE
Nehama Bennet-Teasdale has been teaching in Congregation Shir Tikvah's supplemental school for a number of years. Having formerly worked in early childhood education in Israel, she brought with her any number of tricks of the trade. For the past several years, she has been our go-to teacher for "Hebrew Through Movement," an innovative curriculum out of the Jewish Education Center of Cleveland. As first- and second-graders hop, skip and jump around the gym, they are acquiring language skills that lay the foundation for letter recognition and reading.
AMY RHINE
Amy Rhine, the main teacher at Havurah Shir Hadash's Wisdom Garden, is a Waldorf homeschool educator who lives with her husband and toddler on a mountain homestead raising a dairy goat herd and their own food. Last year she participated in the Wilderness Torah Teacher Training Institute and then created the Shoreshim (Roots) outdoor component of our program, hosting students on her land three times a year to bridge wilderness skills with Jewish teachings. "We are so grateful for what Amy brings to Wisdom Garden. Her education and lifestyle are totally in sync with our vision – teaching our students to profoundly respect and care for the land and the environment, to be active in co-creating a world we want for our children's children," says Havurah Executive Director Ayala Zonnenschein.
DAVIDA JORDAN
Davida Jordan has taught the Kol Shalom pre-mitzvah (ages 5-11) classes for seven years. She possesses a special combination of professional preparation for Sunday school teaching with a deep and heartfelt understanding of Humanistic Judaism. Davida grew up at a Reform temple, where she became a bat mitzvah and worked in their children's education program as a madrikha, Hebrew tutor and Israeli dance instructor. While earning a B.A. in language studies at the University of California- Santa Cruz, she taught elementary students in a Reform temple and tutored Hebrew. Davida has taught English to refugees, immigrants, residents and international students at various schools in Portland. She is a longtime and active member of Kol Shalom and the mother of two children in our Sunday school.