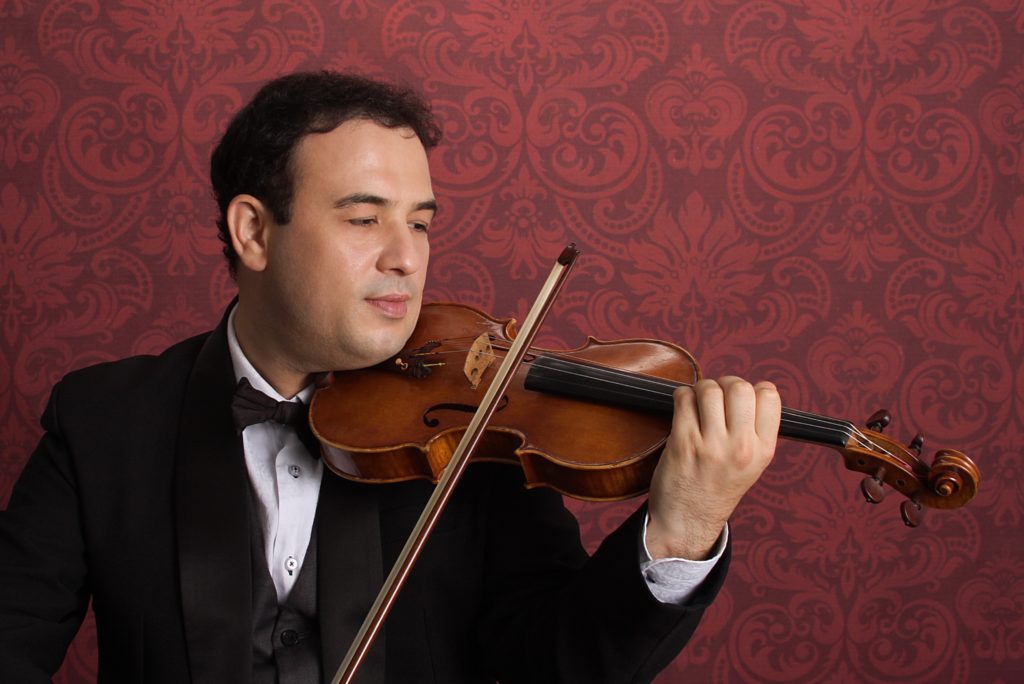 Violinist Jonathan Leviim and Russian-American pianist Tatyana Okhotin will perform in Vancouver, WA, Nov. 18.
The program (see below) will include the theme from Schindler's List, in addition to a selection of classical pieces.
Violinist Jonathan Leviim  is a Russian violinist, a child prodigy born to Bukharian Jewish parents. He played his first concert at age 6, performing the Vivaldi and Bach Concertos. He honors his Jewish heritage and recently celebrated Israel's 70th Anniversary with a series of concerts of classical and Jewish music in San Diego.
Jonathan says his dream is to visit Israel to share his talent and musical gift with people there. He already has performed on every continent (except Antarctica) in more than 70 countries. He has played in some of the world's most prestigious venues including: Cologne Philharmonic Hall, Munich Philharmonic, Dusseldorf Philharmonic Tonhalle, Philharmonic Hamburg, The Schauspielhaus-Berlin Concert Hall, National Arts Center in Ottawa, Hong Kong Arts Centre, Centre Colon in Madrid, Spain, and Sydney Opera House in Australia.
He brings passion and warmth and with breathtaking technique to his performances. He has a trademark rapport with his audience, and also loves bringing his musical gifts to regional communities. This concert is a rare opportunity to experience the brilliant sound of the violin at the hands of a maestro, in an informal, friendly and spontaneous atmosphere.
Russian-American pianist Tatyana Okhotina integrates the musical influences of her native Russia and new adopted homeland of the USA in her playing. Having studied with Elena Vozheiko-Wheaton in Vancouver, WA, and Harold Gray at Portland State University, she returned to Russia to continue her studies with professor Victor Stolov of Kazan Conservatory and Margarita Fedorova of the Moscow Conservatory. Tatyana also holds an M.M. in performance from Portland State University, where she studied with Drs. Susan Chan and Julia Lee. During her time at PSU, she performed regularly as a soloist with the PSU Orchestra, local community orchestras, and in numerous masterclasses and recitals. After completing her studies, Tatyana dedicated herself to teaching piano and choral singing to children and teens in the immigrant community. She strongly believes in the importance of developing an interest and love of classical music in underprivileged communities and spends much of her time volunteering for this cause.
Seats are Limited. Tickets on sale at www.eventbrite.com (Search for Jonathan Leviim). General Admission: $25, Children under age 12: $15. Tickets are available at the door 30 minutes prior to the concert unless sold out.
For more information: 858-740-4049 or shalomstringsinfo@gmail.com
PROGRAM
Jules Massenet – Meditation" from opera Thais
George Frideric Handel – Violin Sonata No.4 in D Major (Larghetto and Allegro)
Johann Sebastian Bach – Prelude from the Partita No.3 in E Major
Sergei Rachmaninoff – Vocalise
Nicola Paganini – Cantabile
Ludwig van Beethoven – Romance in F Major, Op.50
Francesco Maria Veracini – Largo for violin and piano
John Williams – Theme from "Schindlers' List"
Fritz Kreisler – Liebesleid
Nicola Paganini – Sonatina No.12 in E Minor
Fritz Kreisler – Preludium and Allegro
Vittorio Monti – Gypsy Air Czardas
LOCATION: Kennedy Violins Inc., 508 SE 117th Ave., Vancouver, WA 98683
TIME: 3-4:30 pm, Nov. 18