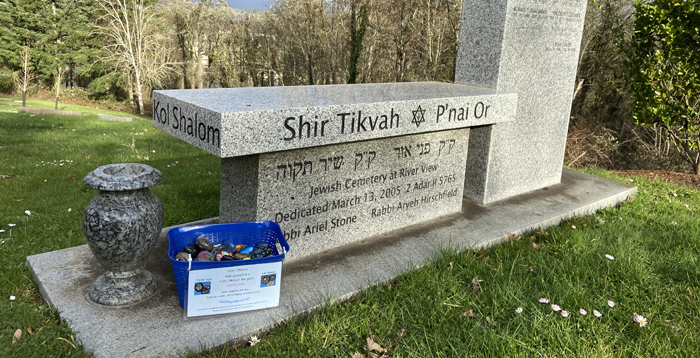 Photo: A basket of Libe Shteyn or "Love Stones" to place on headstones.
Placing a stone on a grave is a Jewish custom that dates back to at least medieval times. There are a variety of explanations as to why this tradition began. Some say that it shows to others that someone has visited the grave, others say it allows visitors to take part in the mitzvah of commemorating the burial and the deceased.
Another more mystical approach suggests that the stones keep the soul down. There is a belief, with roots in the Talmud, that souls con­tinue to dwell for a while in the graves in which they are placed. By placing stones on the grave, you ensure that the soul remains where they belong.
But there is a bigger mystery at hand regarding these stones than their origin. In Jewish cemeteries surrounding Portland and Vancouver, little baskets of hand-painted rocks started appearing around the end of February.
These baskets of Libe Shteyn or "Love Stones" in Yiddish have a simple note to "help yourself" to a stone for your loved one. All they ask in return is if the supplies are running low to drop them a line at libeshteyn@gmail.com, and they will paint more.
Who is behind the Libe Shteyn?
While we did not get an answer to that question, we did get some of the other questions answered that we sent to the Libe Shteyn email.
We were told the idea for Love Stones originated from the story a friend told the founder. This friend was going to meet their family for the unveiling of her father's headstone. They had heard a story recently about someone who went to a funeral where painted rocks were presented at the service. She decided to do that for her family so that when they all met, each person would have a hand-painted stone to place on the headstone during the unveiling.
This story resonated with the founder of Love Stones because they always associated going to a cemetery with sad and awful experiences. "I don't like going to the cemetery. It was a taboo thing in my family," they shared. "I thought, 'This is so pretty, I'm going to ask a few friends if they'd be interested in doing it.' The response was great."
The stones are all hand-painted with unique designs created by the individual artist. There are hamsas, mandalas, whimsical and natural designs; some contain words in English or Hebrew.
"When you have them all together, you sit there and you can't help but stare at them like you are in a museum. You can't stop," says the founder.
The group of painters came up with the name Libe Shteyn themselves and set up the email so that people could contact them when the baskets were running low.
They have also been receiving the "most beautiful messages of thanks" via the email. Some people have sent in suggestions of Hebrew words to paint. Others share photos of the rocks placed lovingly on a headstone.
The concept has been so well received. "We feel so good about doing this," adds the founder.
They insist that they all want to remain anonymous for as long as they can. The mystery surrounding it makes one painter feel a little like the chevra kadisha, the sacred burial society. This group of people cares for the body after death – washing it, dressing it in shrouds and placing it in the coffin – preparing the deceased for burial, purely out of love and respect, with no motive of expecting reward or compensation.
They paint the stones with similar intentions and love so that each one becomes a fitting symbol of the lasting presence of the deceased's life and memory.