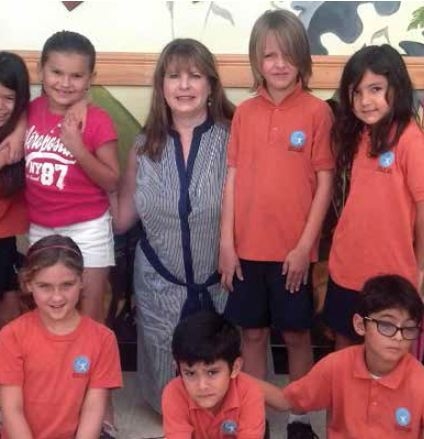 Mathematics may seem like an odd means for building interfaith bridges, but mathematics teacher and consultant Sherri Adler has met people she would never have encountered without it. Adler lives in the Phoenix area and trains teachers in Singapore Math and Common Core standards. Until recently she was a partner and co-founder of SMARTTraining, LLC, which provides in-depth teacher training in the Singapore Math method to school district math departments around the country.
Adler also lectures about math for the Bureau of Educational Research. Her current lecture, which she'll deliver several times next year, is titled, "How To Close the Achievement Gap Using Singapore Math Strategies." Singapore Math is a teaching method based on the national math curriculum used for kindergarten through sixth grade in Singapore. Students master basic mathematical concepts using a three-step learning process. "We start with a concrete manipulative, like blocks or poker chips or paper clips, then move to a pictorial representation of the idea and finally introduce the equation, which is the most abstract aspect of the process," Adler explains. "Singapore Math emphasizes mastery. It explains why the math works, not just how."
Adler first encountered Singapore Math when her own children went through the program in Phoenix, in one of the first schools to implement Singapore Math in the United States. "I never thought I wanted to teach math until my kids went through this program, and I saw what a big difference it made to them," she explains. Adler taught full time between 1993 and 2006 – "I took a few years off when the kids were young" – and now spends most of her time as a trainer and consultant to teachers and school districts around the country and overseas. "I recently returned to the classroom twice a week, so I can experience what today's classrooms are really like," she adds.
Teacher trainings generally take place in the summer months when school is out of session. "Now that I'm a consultant and trainer, I'm just a picture on the mantle to my family during the busy season, because I'm gone for three out of four weeks in a month," Adler admits with a rueful grin. Last summer she returned to the Minaret Academy, a Muslim school in Anaheim, CA, for a teacher training. "I've been there three times, and they found out after the first time that I was Jewish. I'm very proud of my religion, and I've taught religious school for many years, so I made of point of slipping it into the conversation," says Adler. "Initially, I think they were a little surprised that a Jewish woman would come into their school and share with them, but from that moment on they made me feel very welcome. They made incredible feasts for me every time I visited." Minaret Academy is a religious Islamic school; all the female teachers wear full hijab,and the whole school breaks for daily midday prayers. "There are Muslims from all over the Middle East represented among the educators, so I've been able to learn about many different cultural and religious customs from them."
Adler relishes the opportunity to connect with and learn from these Muslim teachers. "There are so many similarities between Judaism and Islam," she says. "They eat halal foods and we keep kosher. The separation of men and women and women wearing modest dress reminds me of Orthodox Jewish practice." Adler's continuing relationship with the teachers and administrators at Minaret has blossomed into friendship. "I feel a connection to them because they are so warm and welcoming. They also feel the necessity to convey the fact that all Muslims are not extremists. Since 9/11, many people have negative feelings towards Muslims and Islamic culture. Jews have been through that kind of persecution so many times in our history, so I feel some empathy for what they've experienced."
For Adler, combining her Jewish values with her work provides an unparalleled opportunity to practice tikkun olam. "Education is a core Jewish value, one I was taught and that I've instilled in my children," she says. "But if one person can make a difference to another person, that's part of Judaism too. To be able to treat people humanely even if they are different from you is so important. It's healing the world."