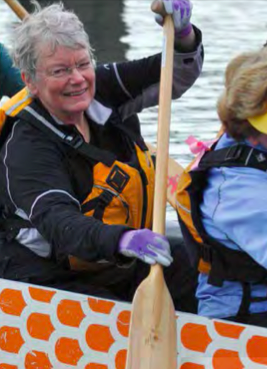 This may be the golden era for aging.
With people living longer, seniors want more choices for living active, fulfilling lives. Abundant opportunities for stimulating educational and social programs are available, along with a wide variety of in-home, independent and assisted living options. The increase in in-home care providers and ways to increase accessibility and mobility enables seniors to stay in their homes longer if they choose. And even nursing home care is becoming more homelike.
Seniors:
Elder Care
All in One Mobility, INC.
Paul Robin, VP Jody Forlenza, President Christina Forlenza, Manager
12833 NE Airport Way Portland, OR 97230
503-255-5005 Fax: 503-255-5010
sales@allinonemobility.com, www.allinonemobility.com
We sell, install and service stair lifts, wheelchair platform lifts, ceiling track lifts, walk-in bathtubs, ADA and barrier free roll-in showers, residential elevators and more. We work throughout Oregon and Washington. Our main showroom is in Portland near the airport. Ask us how you can make your home accessible and fully useable for all levels of ability and mobility. Allow your loved ones and yourself the dignity and independence deserved.
Cedar Sinai Park Adult Day Services
Nancy Heckler, CSP ADS Program Coordinator
Kathy Tipsord, CSP Community Life Director
6125 SW Boundary St. Portland, OR 97221
503-535-4403 Fax: 503-535-4334
nancy.heckler@cedarsinaipark.org, www.cedarsinaipark.org
Our social model program provides socialization, support services and recreation in a secure, supervised setting. Group activities are adjusted to the needs, abilities and interests of participants to encourage self-esteem and feelings of success. Join us once or twice a week or for all five days for yoga, music therapy, horticulture therapy, creative arts, brain fitness activities, reminiscing, board games and special events. Lunch and two snacks are included in the cost of the program.
Lifeline Senior Services/JFCS
Brian Fallon, Lifeline Manager
1221 SW Yamhill St., Ste. 301 Portland, OR 97205
503-226-7079, ext. 121
www.jfcs-portland.org
Lifeline Senior Services is designed to meet the needs of seniors and people with disabilities who wish to live as independently as possible in their home.
Sinai Family Home Services
Paige Coleman, MBA, Executive Director
7412 SW Beaverton Hillsdale Hwy. #106
Portland, OR 97225
503-542-0088 Fax: 503-542-0077
info@sinaifamily.org, www.sinaifamily.org
Need a helping hand? Sinai Family Home Services is a licensed Comprehensive In-Home Care Agency serving Seniors and People with Disabilities in Multnomah, Clackamas and Washington Counties. Working with individuals and families, we offer experienced coordination, hands-on care and personalized plans. We cook, clean, drive, visit, assist with daily activities and administer medication. For short periods or long-term care, we help you or your loved one remain comfortably at home. We can help!
Senior Living
Cedar Sinai Park
David Fuks, Chief Executive Officer Ali Reis, Robison Jewish Health Center
Admissions Coordinator Deborah Elliott, Rose Schnitzer Manor Marketing Director
6125 SW Boundary St. Portland, OR 97221
503-535-4300 Fax: 503-535-4330
info@cedarsinaipark.org, www.cedarsinaipark.org
Cedar Sinai Park provides residential and community-based care to our elders and adults with special needs, allowing them to live with comfort, independence and dignity in a manner and in an environment based on Jewish values.
Courtyard Village at Raleigh Hills
Joanie Ceballos, General Manager Merry Larsen, Marketing Director Doris Kelleher, Operations Manager
4875 SW 78th Ave. Portland, OR 97225
503-297-5500 Fax: 503-297-6179
joaniec@courtyardvillage.com, www.courtyardvillage.com
A welcoming, comfortable community where you feel you belong is important for your future. Courtyard Village at Raleigh Hills provides high quality
and affordable housing for active, independent seniors 62 years of age or older. We are independently owned and operated locally. It's the privacy and freedom of home combined with services of friendly, helpful and caring staff. Residents feel connected and continue to thrive as they foster meaningful relationships. Embrace the beauty of retirement!
Pacifica Senior Living Calaroga Terrace
Stephanie Hertzog, Sales & Marketing Director
Robyn Glahe, Sales & Marketing Counselor
1400 N.E. Second Ave. Portland, OR 97232
503-736-3642 Fax: 503-239-3399
marketing.calaroga@encoresl.com, www.pacificacalarogaterrace.com
Pacifica Senior Living Calaroga Terrace is a retirement community in Portland offering independent and assisted living with close access to medical care, shopping, dining and entertainment.
Robison Jewish Health Center at CSP
6125 SW Boundary St. Portland, OR 97221
503-535-4300
Rose Schnitzer Manor
David Kohnstamm, Administrator Deborah Elliott, Marketing Director Shelley Turner, Community Outreach Coordinator
6140 SW Boundary St. Portland, OR 97221
503-535-4000 Fax: 503-535-4214
deborah.elliott@cedarsinaipark.org, www.RoseSchnitzerManor.org
Rose Schnitzer Manor is the happiest, healthiest and smartest retirement community in Oregon. Our residents enjoy healthy kosher food, a loving, highly trained staff and a warm, home- like feeling. Whether you're looking for independent living, assisted living or help for aging parents, the Manor offers the best of all worlds. Located on the campus of Cedar Sinai Park, extra care is available when you need it, right across the street at Robison Jewish Health Center.