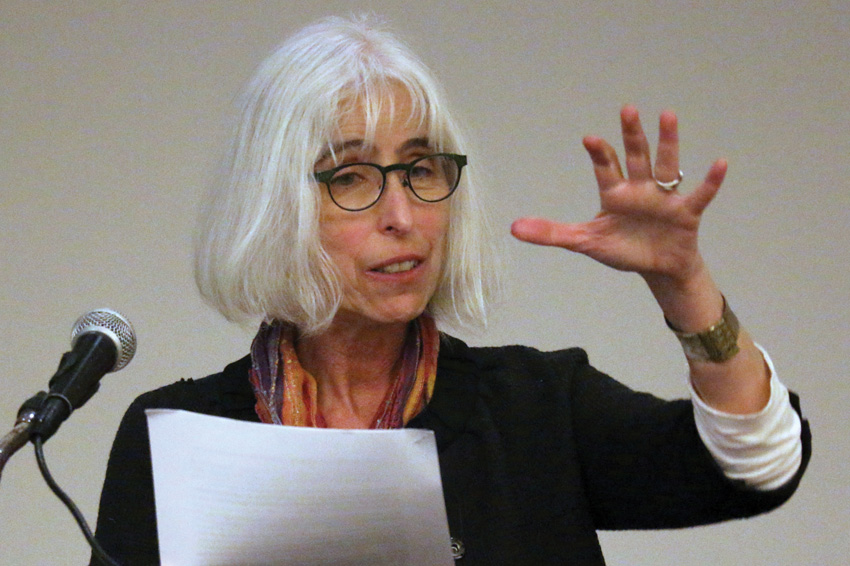 As a judge of the Voices Israel poetry competition, Portland poet and artist Willa Schneberg listened to the diverse voices of some 300 poets and also shared her own voice with the members of a group dedicated to English poetry in Israel.
Willa says through both the poems and homestays, she learned that "the diversity of how people experience being Jewish in Israel is unbelievable."
One morning she awoke in the Jerusalem home of an Orthodox family, where she relished the opportunity as a secular spiritual person to "enter their life" and experience a kosher home in which they pray three times a day. That night she was hosted by a very secular Tel Aviv woman who took her out to dinner at a non-kosher restaurant on the Mediterranean. She spent another day in the mystical city of Tsfat, where she was able to "get a sense of the rhythm of their lives" as a "renewal oriented and mystically oriented people." In Tsfat she also was able to visit a potter with whom she studied while living in Israel in 1987-88, when she was a social worker interacting with children from troubled homes and with profoundly retarded adults.
This event marked Willa's second opportunity to judge Voices Israel. The first time was 2004-5, when she was the only judge; this year she was the international judge along with two Israeli judges. She says all the winning poems have what Robert Frost described as "a fresh look and a fresh listen."
The winning poems, which range from lyrical and mystical to the simple contentment of a Golan cowboy, will be published in the Voices Israel annual anthology. (See Willa's descriptions of the three winners and 10 honorable mentions next page).
A clinical social worker in private practice, Willa is the winner of an Oregon Book Award and the author of five books of poetry. She says that the highlight of the trip was the opportunity to read from and talk about her latest collection, Rending the Garment, at a book party one of the Voices members hosted.
"Rending the Garment is about one Jewish family – mine," explains Willa. "In Israel, I was able to use Yiddish terms that people knew. People deeply entered my work and understood what it was like for my family of first-generation Americans with Yiddish as their first language. People responded more profoundly (than at U.S. readings)."
While in Israel, Willa also presented two workshops: one focused on writing poetry inspired by the news and the other on writing the persona poem. She presented both workshops in Jerusalem and Tsfat so Voices members from different parts of the country could participate. Writing from the news was especially topical, since many of the entries in this year's contest were reflections on last summer's war in Gaza.