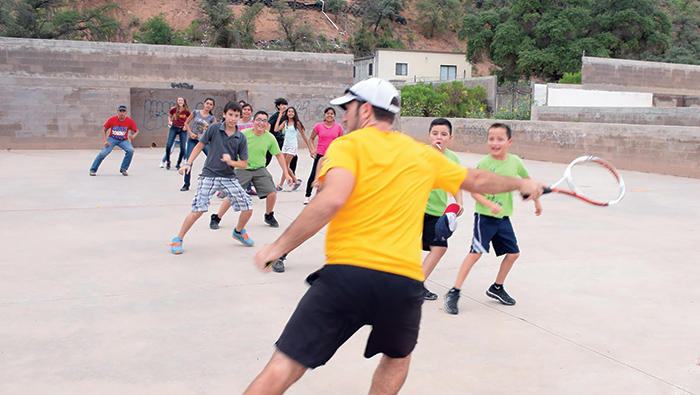 Many children in both Nogales, Arizona, and its sister city Nogales, Sonora, Mexico, would not recognize a tennis court, let alone know the rules of the game. For Charlie Cutler, a former professional tennis player, the goal is to change that.
Charlie grew up in Portland, Oregon, attending Havurah Shalom where he became a bar mitzvah. The 29-year-old recently established a nonprofit organization called Border Youth Tennis Exchange. Charlie provides tennis lessons and educational programming on both sides of the border in Nogales, enhancing the lives of children who otherwise would not have access to extracurricular sports and education.
The children are only about 5 miles apart in distance, but are separated by a border and have never met. Both communities are largely made up of low-income workers.
"BYTE promotes healthy cross-border interaction," Charlie explains. The program was originally slated just for the summer, but in the coming months Charlie plans to make it a permanent afterschool program. He will teach lessons two days a week in Arizona and two days a week in Mexico and will have a video conference between both sets of students during the educational component of the programming.
Charlie and his wife, Stefanie Tannenhaus, recently moved from San Francisco to the Arizona side of the border community to dedicate themselves full time to BYTE.
Charlie was finishing his master's degree in international studies and human rights with a focus on border policy and immigration, specifically refugee asylum, at the University of San Francisco.
He originally discovered the border communities of Nogales through an internship with the Border Community Alliance during his studies.
"At a more theoretical level, one of the greatest challenges facing the border is misrepresentation in the media and disconnect between public conception and realities on the border. Crime, drugs and undocumented immigration dominate national perceptions of the border region and overshadow the real people living their daily lives in a place dictated by fearful national policy," he says.
Charlie spent his youth in Portland playing tennis, saying it enriched his life in ways he has never taken for granted. He played competitively starting at age 7 and began playing nationally as a high school junior and through four years of college. In 2011 he played three professional tennis tournaments in Israel – two in Ramat Hasharon and one in Ashkelon. While there he visited cousins on Kibbutz K'Far Blum.
Now, he wants to bestow the gifts of sportsmanship to kids in high-risk communities, giving them an opportunity to immerse themselves in positive and educational afterschool activities.
"When I first arrived last summer to teach lessons, about 35 kids showed up. It was total mayhem. I'm not even sure anyone learned anything about tennis," Charlie says. The kids' – and parents' – interest sparked the idea for him, and he went to work to build his organization.
"I really see this model as a pilot for a healthier way to interact as countries, connecting communities at a grassroots level," Charlie says. "BYTE is a vehicle for involving youth in sports and exercise as well as a method for productive mentorship and the teaching of positive life habits. There is ample data on the role of sports and afterschool programming in gang prevention and youth development."
Incorporating digital technology into learning will advance the programming, he says. On the days he is on the Mexico side, Stefanie will be in Arizona and the two groups will video conference. The chats are an opportunity for the kids to interact in a format unfamiliar to them.
To start, the program will focus on 15 students on each side between the age of 8 and 10. Charlie says the age of the children participating is critical. "The younger you can make an influence, the better chance of impacting lives," he says. He is adapting and customizing the curriculum for BYTE from a National Junior Tennis and Learning model called Academic Creative Engagement.
There are no public tennis courts on in Nogales, Mexico, and along with growing and funding the afterschool program, Charlie is setting out to build one. His ultimate goal for the future of the organization, however, is to establish the program permanently and share the pilot model with other cities.
"I plan to use my organization as a narrative for healthier interaction across borders," Charlie says.
Much of the support received so far has been from the United States Tennis Association Foundation, the community development arm of the USTA that oversees a network of nonprofits and supports organizations such as BYTE. Funding has come from a variety of donors, Charlie says, and he has already raised $130,000 from government agencies, the U.S. consulate in Nogales, national foundations and individual donors.
BORDER YOUTH TENNIS EXCHANGE: bytetennis.org | ccutler@bordercommunityalliance.com