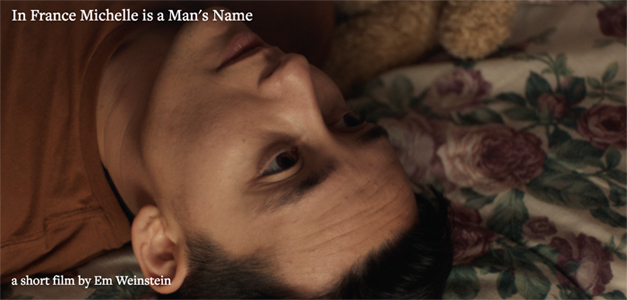 ---
Em Weinstein is a Yale School of Drama graduate, writer and director of new plays, films, musicals and interactive installations.
Her latest film, "In France, Michelle is a Man's Name," has been selected to debut at the upcoming Outfest Los Angeles LGBTQ Film Festival. The film was shot in September 2019 in The Dalles, Tygh Valley and Dufur, Oregon; Goldendale, Washington; and at Mary's Club, the oldest strip club in Portland, Oregon.
The festival has selected the short film, as part of its 2020 festival of world-class films, panels, and events, running August 20 through August 30. The film will screen on August 27 and will be available digitally through August 30 at Outfest.org. "In France, Michelle is a Man's Name" has also been selected to play at Outfest Los Angeles' Transcendence shorts program and will be part of a drive-in double bill with the feature film "COWBOYS" on August 22 at Calamigos Ranch in Malibu.
The 12-minute film, directed by Em, is about Michael, a young Latinx transgender man who returns home to the rural American West after years of estrangement from his parents. "In France, Michelle is a Man's Name" explores trans identity, masculinity, and the prices we're willing to pay for acceptance. Weinstein's previous short film, "Candace," won the grand prize at the American Pavilion Emerging LGBTQ Filmmakers Showcase at the Cannes Film Festival in 2018.
Em is a writer and director from New York City and The Dalles, Oregon. Michael is played by Ari Damasco, an actor and consultant from Aguascalientes, Mexico and Southern California. The two met in 2009 at Smith College and have been close friends and collaborators ever since. Weinstein and Damasco both live on the AFAB (assigned female at birth) trans-masculine spectrum: Weinstein uses they/them pronouns and Damasco uses he/him pronouns.
According to Daniel Crooke, Outfest Programming Coordinator, "We fell in love with the characters and were riveted and moved by the father-son relationship depicted so tenderly and multidimensionally in the film. Weinstein evokes the rural milieu in such an acute manner, while still leaving the edges of their emotional landscape unsmoothed enough to reflect the messy reality of this world. It is an excellent piece of filmmaking, and we're delighted at the prospect of welcoming Em Weinstein back to the (for now, digital) festival!"
Said Em, "Before the pandemic, I gathered a team of queer and trans filmmakers and brought them to the arid landscape of the American West to make this film about a white cis father and his biracial trans son navigating their relationship. Especially in our current climate, I'm eager to tell stories of collision and intersection between people of different races, different political beliefs, different lived experiences. What happens when these people are in the same family? How do they hurt each other? How do they continue to love each other?"
The Outfest Los Angeles LGBTQ Film Festival this year will run across 11 days of not-to-be-missed world-class films, panels, and events. Due to COVID-19, the festival will take advantage of the latest in streaming-digital, at-home and in-person (as allowed) event platforms accessible to a global audience for the first time in its history. Each summer, Outfest Los Angeles screens more than 200 features and short films to an audience of more than 50,000 people. Outfest Los Angeles is the largest and oldest film festival of any kind in Los Angeles and is considered the preeminent and most widely-recognized LGBTQ film festival in the world

---
---