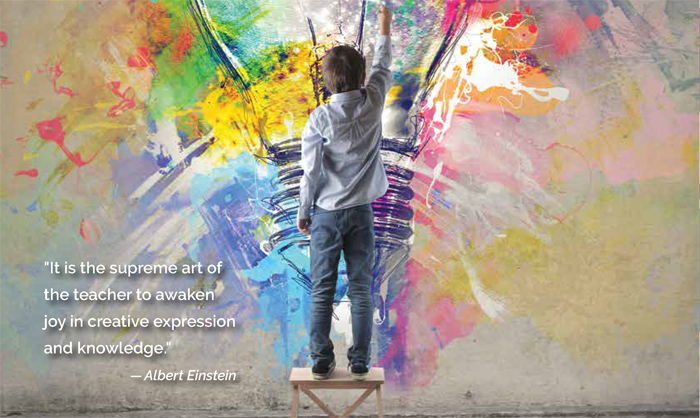 ---
PORTLAND JEWISH ACADEMY
 6651 SW Capitol Hwy., Portland
pjaproud.org • 503-244-0126
At PJA, students from 6 months through 8th grade thrive in an academically excellent environment that honors the whole child.
PJA nurtures and inspires positive Jewish engagement, respect and responsibility for the world. Our Jewish values are the guiding principles of our school: study, respect, identity, responsibility, community and appreciation.
"We are raising mensches – good people who think for themselves and work for the world," says PJA Principal Merrill Hendin.
We provide a strong foundation in academics, ethics and values. Our graduates are poised to be leaders and learners in high school and beyond. From the time they are very young, a child's ability to inquire is nurtured.
PJA's emphasis on project-based learning and focus on STEAM (science, technology, engineering, arts and mathematics) encourages students to explore many areas of interest and make connections between their studies and the real world. As a community Jewish day school, we offer a rich and diverse program in Jewish studies that enhances critical thinking skills steeped in tradition. Students learn Hebrew as a modern language of communication as well as a way to connect with ancient texts.
PJA also offers extensive enrichment programs including music, visual and media arts, drama, service learning and volunteer opportunities, P.E., wellness and health classes. Our Maker Space supports classroom learning and provides a place for students to explore, create, design and innovate. Collaborative and integrated learning gives students the foundation to "think for themselves and work for the world."
Families of all backgrounds are welcome at PJA.
MAAYAN TORAH DAY SCHOOL
2 SW Touchstone Dr., Lake Oswego, OR
Maayanpdx.org • 503-245-5568
Maayan Torah Day School moved to its own campus this spring. With large outdoor gardens, sports area and indoor performing arts auditorium, the school is poised for continued growth with more than 100 students this fall.
Last year's academic growth included a "Hands on Science" program and nonfiction reading challenge. Both were huge successes. "The kids were enthralled with more science-related experiences," says Principal Aviel Brodkin.
"You could hear them ooh and aah while conducting experiments!"
Accredited by AdvancED, Maayan offers academic excellence in Judaic and general studies for children from 18 months through eighth grade.
"Children in our school feel that they love being Jewish and this begins with experiences that start in our preschool," says Brodkin.
That vibrant Jewish atmosphere with a focus on Torah study, Israel and living as Jews continues through eighth grade. "Maayan" is Hebrew for a spring of water; at Maayan, teachers seek to instill in each student the love of Torah as a wellspring in their lives.
In addition to the rich Jewish environment, Maayan offers a learner-centered education prioritizing students' active participation in acquiring knowledge.
"Our preschool builds ideas and imagination, teaches kids how to be a friend, and how much joy there is in learning," says Brodkin.
In elementary school, teachers use current best teaching practices to engage students.
"Our students score high in academic areas because we use small groups to challenge students on multiple levels,"
she said. "Parents speak of the sincere care of staff for students and individual attention.
Rabbi Yerachmiel Kalter has become the Judaic Studies Principal. He believes in his students and says, "Good education and positive classrooms can inspire students to reach goals that they never before thought possible!"
HAROLD SCHNITZER FAMILY PROGRAM IN JUDAIC STUDIES
at Portland State University
465 UCB, 1881 SW 5th Ave.
PO Box 751, Portland, OR 97207
judaicst@pdx.edu • 503-725-8449
The Harold Schnitzer Family Program in Judaic Studies was established to foster academic achievement, civic engagement and leadership skills through rigorous and in-depth interdisciplinary study of Jewish history, culture and civilization.
"Thanks to the program's intimate learning environment, students benefit from the type of personal attention normally associated with small liberal arts colleges while still having the advantages of a large urban university," says Natan Meir, Lokey Associate Professor and Academic Director of PSU's Harold Schnitzer Family Program in Judaic Studies.
The four core faculty members – Meir; Rabbi Joshua Stampfer Associate Professor of Israel Studies Nina Spiegel; Associate Professor Loren Spielman; and Professor Michael Weingrad – focus on ancient Judaism, modern Jewish history, Israel Studies and Jewish literature. Working with affiliated faculty in Hebrew language, medieval history and Middle East studies, they create an enriching and stimulating atmosphere.
"We offer an array of scholarships intended to ease financial pressure on students so they can focus on their studies," says Meir. Scholarships cover from $500 to $5,000 of annual tuition and include the new Jordan Schnitzer Scholarships, which offer Judaic Studies majors $5,000 annually for up to four years. Students undertaking the B.A. in Judaic Studies can choose from concentrations in Judaism; Jews in Antiquity; Israel Studies; Modern Jewish History; and Literature, Culture and the Arts.
Integral to the program's mission is a strong commitment to community engagement, which includes a broad array of programming such as lectures, seminars, and arts events. Last year's events roster included "Tenement Stories: New York's Jewish Lower East Side" (the annual Gus and Libby Solomon Memorial Lecture) and historian Timothy Snyder as the Sara Glasgow Cogan Memorial Lecturer.
 CONGREGATION SHAARIE TORAH
920 NW 25th Ave., Portland, OR
The Carl Preschool: thecarlschool.com | 503-226-6131 ext. 107
Education Program: shaarietorah.org | 503-226-6131
Congregation Shaarie Torah, a Conservative synagogue in the heart of Northwest Portland, offers education programs for children, teens, adults and families. Weekday preschool, weekend religious school and exploration program, Wednesday night middle and high school classes all aim to foster Jewish identity and values.
Our Portland Jewish Explorers program invites children in kindergarten through fifth grade and their parents to explore Portland with a unique Jewish twist! An out-of-the-box experience, we guide children out of the classroom and into environments that intrigue and excite, inspiring them to connect their Judaism to the broader world. From farm trips, safari adventures, yoga and storytelling, we've got something for everyone to enjoy.
We look to engage our students in what it means to live a Jewish life, to have a commitment to tikkun olam (repair the world) and a sense of joy in experiencing all that our heritage has to offer.
 THE NASHIRA EDUCATION PROJECT
 Congregation Shir Tikvah
7550 NE Irving St., Portland
shirtikvahpdx.org • 503-473-8227
Shir Tikvah was founded 15 years ago. The education program has grown from a handful of students to more than 80 between the ages of 5 and 13. The independent, progressive approach appeals to Portland families who are looking for a connection with other Jews and a place for their children to learn at their own pace and level."We had the rare opportunity to create a program from scratch, which allows us more flexibility to adjust our teaching based on who walks through our doors," says Education Director Katie Schneider. "What appeals to one set of kids might not work the next year. We want to nurture a lifelong love of Judaism and Jewish learning."
The Nashira Education Project meets for classes on 18 Sundays a year at the Tucker Maxon School on Southeast Holgate Street, a space Shir Tikvah rents to accommodate the size of their group. The focus for younger students is holidays, stories, art and oral Hebrew. As they grow, the curriculum broadens to include Hebrew reading and project-based learning around mitzvot, tzedakah, history and Jewish culture.
While kids are in class, Rabbi Ariel Stone leads a parent discussion group. "It's that kind of direct access to her and each other that builds strong connections between families," Schneider says.
Throughout the year, families gather at the synagogue building just north of Glisan for Shabbat and holiday celebrations. B'nai mitzvah students meet with tutors for a rich, individualized experience as they look forward to being called to the Torah for the first time.
Nashira Education Project classes start in October. For more information, contact education@shirtikvah.org.
 CONGREGATION NEVEH SHALOM
2900 SW Peacef ul Lane, Portland
Neveh Shalom ALIYAH program: nevehshalom.org | 503-293-7309
Foundation School Preschool: foundationschoolpdx.org | 503-293-7307
At Neveh Shalom, our goal is for children to feel at home in Judaism. From birth through high school we offer innovative and engaging educational experiences that nurture our children's hearts, bodies and minds. Beginning with Tot Shabbat and Foundation School, our youngest learners are immersed in a joyful Jewish environment. Leah Conley leads Foundation School's programs for children ages 12 months through pre-K. Kindergarten through 6th-graders in our ALIYAH program enjoy a large and vibrant youth community, led by our Director of Congregational Learning Mel Berwin. Hebrew, Jewish building blocks, mitzvot, lifecycle, holidays and electives such as music, arts, dance and Jewish history D&D are all part of the varied and active curriculum. Shabbat and holiday programming continues through the elementary ages leading students to the awesome milestone of becoming b'nai mitzvah.
Students in 7th-12th grades continue learning and social connection through in-depth conversation in Tichon, Neveh Shalom's Wednesday night program for teens, and USY, which offers trips throughout the Northwest to connect with Jewish peers. Intergenerational and inter-communal programs bring together members across demographic groups and expand our children's and families' connections with each other. Our teachers care about the success of each student and create a learning environment that supports every child in his/her learning as well as in building a strong community of friends. Our program is dedicated to the inclusion and participation of every child in our community, so that all students can learn with and from each other.
 CONGREGATION BETH ISRAEL RELIGIOUS SCHOOL
1972 NW Flanders St., Portland
bethisrael-pdx.org/education | 503-222-1069
At Congregation Beth Israel, students learn Jewish values and ideas, then put them into action.
Every year CBI's high school students travel to Washington, D.C., to participate as lobbyists with the Religious Action Center for Reform Judaism. This year, our efforts focused on gun violence prevention, economic justice and climate change.
But putting values into action isn't just for our oldest students. "Our teachers, clergy and staff are dedicated to creating meaningful and joyful Jewish learning experiences," says Education Director Ben Sandler. From pre-kindergarten through the 12th grade, as CBI students engage in ideas and draw values from Jewish texts, they become more connected to Judaism and each other as they apply those Jewish values to improving our world.
CBI's pre-k through fifth-grade program is an artsintegrated curriculum that combines Jewish culture with core curriculum and Hebrew language studies. Through drama, music, visual arts, stories and dance, our students build community, celebrate together and explore their own ever-changing Jewish identities. Each week our learning community participates in a lively Mispacha Minyan, a family service with our dynamic clergy who integrate storytelling, humor, learning, dance and music into the prayer experience.
"Our dedicated, engaged and energized teachers, and students, clergy, parents and staff make CBI's Religious School special," says Sandler. "The people create a welcoming, interesting and fun Jewish educational setting." CBI also has outstanding opportunities for teens to connect socially and cultivate leadership skills locally and regionally in NFTY-affiliated youth groups and Madrichim program.
Please contact Education Director Ben Sandler, Director of Youth and Young Family Engagement Chelsea Ferguson, or Education Administrator McKenna Means to learn more about our Religious School and Early Childhood Education communities, classes, youth group opportunities and family education.
 HAROLD SCHNITZER FAMILY PROGRAM IN JUDAIC STUDIES
University of Oregon
Susan Campbell Hall, Rm 311 5273 University of Oregon • Eugene, OR
judaicstudies.uoregon.edu •  541-346-5288
Established in 1998, the Harold Schnitzer Family Program in Judaic Studies at the University of Oregon is an interdisciplinary program that provides a broad liberal-arts background in an intimate small-class setting. Graduates find careers in a wide range of professional fields from business and high-tech to law, communications and nonprofit administration. The program also prepares students for graduate work in Judaic studies, religious studies, archaeology and anthropology, as well as rabbinical and cantorial schools.
By its very nature, Judaic Studies touches all aspects and dynamics of the human experience, and is open to any and all students who wish to engage in the life of the mind.
From Einstein to Kafka, from Messiaen to Lazarus, from Seinfeld to Silverman, our program illuminates the contributions Jewish artists, musicians, writers, and thinkers have made to world around them.
Most of our courses fulfill general education requirements, and several of our students opt to have a double major or minor in Judaic studies. Students can enhance their studies through participation in the university's study abroad program, either in Israel or in countries in Western and Eastern Europe. The University of Oregon maintains reciprocity with Hebrew University in Jerusalem and the Technion in Haifa. Judaic Studies faculty and study abroad advisors are available to ensure that college credit is granted for coursework at any of the accredited programs in Israel and Europe.
Our world-class faculty includes professors from diverse disciplines: anthropology, art history, comparative literature, English, geography, German and Scandinavian, folklore, history, landscape architecture, music, philosophy, political science, religious studies, romance languages, sociology, and women's and gender studies. Topics of study include American Jewish Cultures, Jewish Humor, Contemporary Jewish Literature, Holocaust Studies, Medieval Spain, Women and Judaism, Jews and Christians through the Centuries, Bible and Early Judaism, among others.

---
---