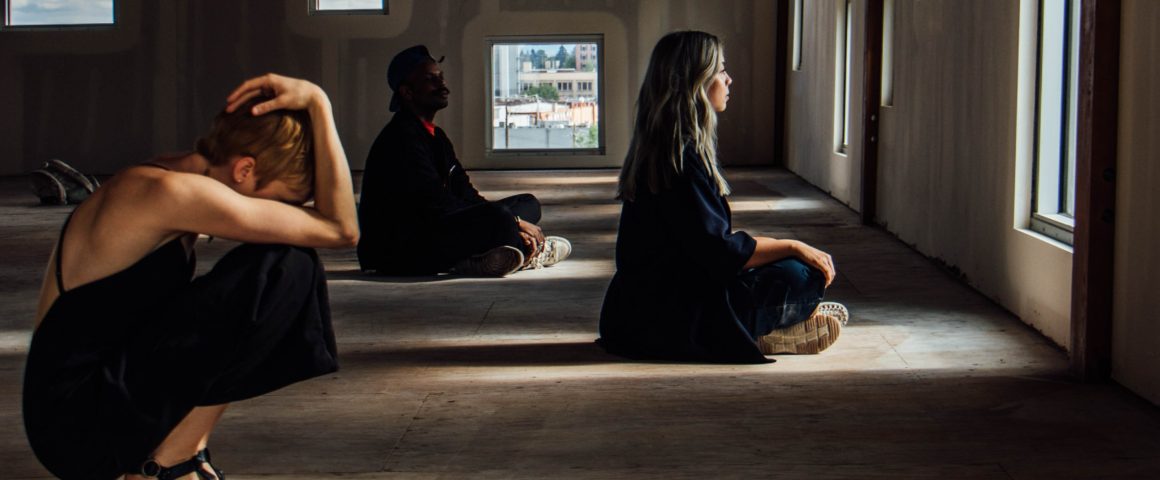 ---
When:
2018-06-15T20:30:00-07:00
2018-06-15T20:45:00-07:00
Where:
Fair-Haired Dumbbell Building
11 NE Martin Luther King Jr Blvd
Portland, OR 97232
USA

Cost:
$25 General Admission $15 Students and Seniors
Heidi Duckler Dance/Northwest (HDD/NW) presents the world premiere of "Waters of the World" on the weekends of June 15th & 16th and June 22 & 23 at 8:30pm.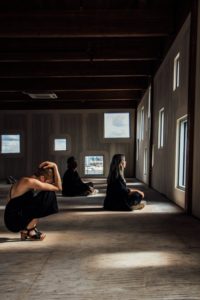 Directed by Heidi Duckler, the performance will include five dancers Kya Bliss, Conrad Kaczor, Erin DeLaney, Kiel Moton and Jenny Windom performing on the fifth floor of the Fair-Haired Dumbbell Building's canted six-story towers. This immersive work will also include projections by Eric Rauh and live prepared piano by Jennifer Wright.
Duckler's "Waters of the World" is based on a short story of the same title by Clarice Lispector. Lispector is considered by many to be the most important Jewish writer since Kafka, and the context around this short story contributes to Duckler's inspiration. Set to original music composed by noted saxophonist, Joe Berry (M83) along with a recording of the story narrated by Paula Rebelo (Star of Sarah Ruhl's The Clean House and 2015 Ovation Award winner), the imagery ranges from the amniotic fluid of birth to the Portland rain culminating in a primordial flood.
Tickets: $25 General Admission $15 Students and Seniors
https://hddt_nw_watersoftheworld.eventbrite.com
Heidi Duckler Dance Theatre Northwest receives support from the Oregon Arts Commission, a state agency, funded by the State of Oregon and the National Endowment of the Arts.     
About Heidi Duckler Dance Theatre/Northwest:
Founded in 2010, HDDT/NW redefines relationships between artists and audiences by presenting bold choreography in extraordinary places, and through collaborations with artists and communities of the Pacific Northwest, cultivates public engagement to create meaningful, multidisciplinary performances with exceptional artistic standards.
About Heidi Duckler:
Heidi Duckler is the Artistic Director and founder of Heidi Duckler Dance Theatre in Los Angeles, California and Heidi Duckler Dance Theatre/Northwest in Portland, Oregon. Titled the "reigning queen of site-specific performance" by the LA Times, Duckler has created more than 200 dance pieces all over the world. Duckler earned a BS in Dance from the University of Oregon and an MA in Choreography from UCLA, and is currently a Board Member of the University of Oregon's School of Music and Dance Advancement Council. Awards include the Distinguished Dance Alumna award from the University of Oregon School in Music and Dance, the Dance/USA and the Doris Duke Charitable Foundation's Engaging Dance Audiences award, and the National Endowment of the Arts American Masterpiece award.
About Guerrilla Development:
Guerrilla Development is a real estate company focused on creating inventive and experimental projects that use both hemispheres of the brain.  We make buildings that prove that good design and good financial returns are not mutually exclusive.  We serve all of our partners with equal care, from investors and bankers to tenants and neighbors to contractors and staff.  Our ideas are coded in walls and windows and concrete and timber.  We measure success by the social capital our developments produce as well as by the asset value they generate. Guerrilla Development is a 21st Century company that operates within a mid-century model.  Our projects are forward-thinking while our company culture is one where 5 o'clock means it's time to go home.  All employees from top to bottom enjoy similar benefits and compensation.

---
---