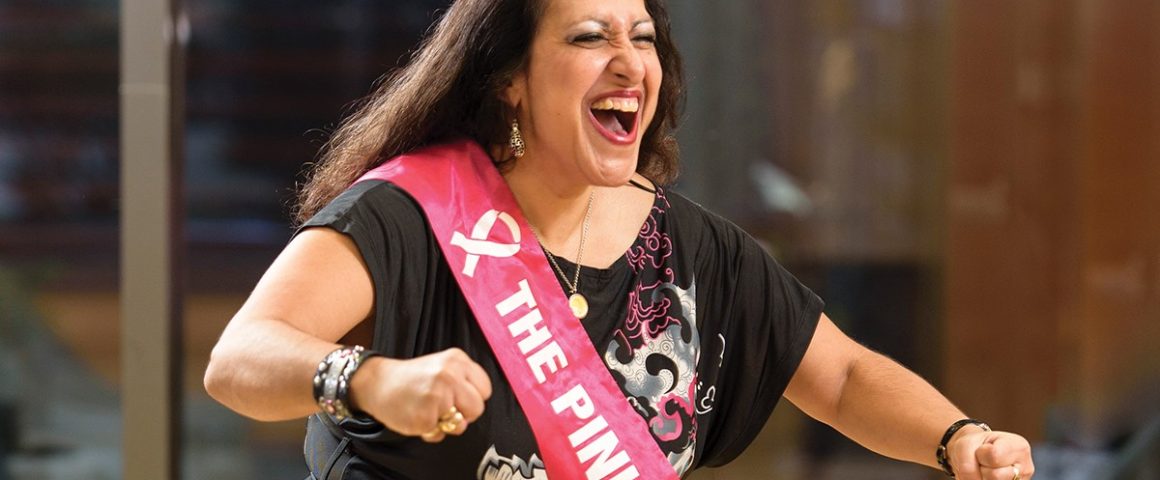 ---
When:
October 10, 2018 @ 7:00 pm – October 14, 2018 @ 7:15 pm
2018-10-10T19:00:00-07:00
2018-10-14T19:15:00-07:00
Where:
CoHo Theater
2257 NW Raleigh St
Portland, OR 97210
USA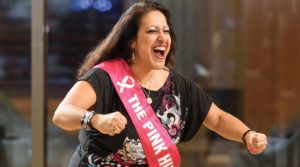 (Photo courtesy of Memorial Sloan Kettering Cancer Center)
Jewish playwright/two-time cancer survivor Valerie David's sassy solo show The Pink Hulk comes to Portland in October.
The Pink Hulk, an award-winning solo show from New York City, will be making its Portland debut in the Come Inside Festival.
Valerie David, the actress and playwright behind The Pink Hulk, is of both Sephardic and Ashkenazi descent, and her Jewish humor and sassiness are featured in her show.
As a two-time cancer survivor, Valerie shares her experience with compassion and humor. The cancer community has connected with her show across the globe, and it has been receiving rave reviews and multiple awards, as Valerie has been touring the United States and Europe over the past two years. The play has been impacting audiences with its message of hope and empowerment. And there is plenty of humor in her show.
Valerie has also performed in 24 festivals, and at Rhode Island College's Nursing Department, her show acted as an educational tool for students, nurses, faculty and staff, revealing what a cancer patient goes through in Valerie's honest and humorous portrayal. She was just a finalist in the New York New Works Festival in Manhattan and won the WOW Award "for the show that inspired awe in audiences with its creativity, humour and content" for her performance at the Gothenburg Fringe Festival in Sweden.
COME INSIDE FESTIVAL PRESENTS:
The Pink Hulk: One Woman's Journey to Find the Superhero Within
Written and Performed by Valerie David
Directed by Padraic Lillis
SCHEDULE—Audience talkbacks to follow
Wednesday, Oct. 10, at 7 pm
Friday, Oct. 12, at 5 pm
Saturday, Oct. 13, at 4 pm
Sunday, Oct.14, at 6 pm
CoHo Theater
2257 NW Raleigh Street
Portland, OR 97210
Tickets are $15 online and $20 at the door.
https://www.merctickets.com/events/57361194/the-pink-hulk-oct-10-14
60-minute solo show with mature content
Synopsis:
Now battling breast cancer after fighting off lymphoma, Valerie does something most people facing cancer for the second time in their life probably wouldn't think of doing. With a fear that she might lose "the girls", she takes them out for one last hurrah. And does Valerie succeed? Is there a "happy ending"? Come see the show to find out! This sexy, adventurous solo show follows Valerie's journey to seek her own "hulk-like" strength to find her superhero within. An empowering and true story of inspiration!
"The joy of this performance is in the honesty and the openness and the wonderfully warm and inclusive woman that is Valerie David…Ms. David has the kind of infectious spirit and deeply inspiring story that needs more than a one-woman show…how about a series?" – Los Angeles Review—NoHoArtsDistrict
"There is clearly nothing about Valerie that isn't exceptional. The Pink Hulk is a triumph of the one-woman show format. The Pink Hulk is the apogee of cancer narratives; the zenith, the apex. You can't get much better than this." – DC Metro Theater Arts

---
---