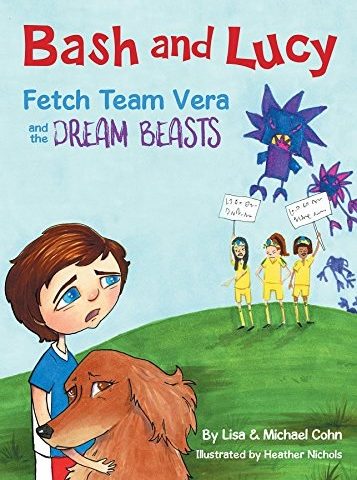 ---
When:
June 2, 2018 @ 2:00 pm – 4:00 pm
2018-06-02T14:00:00-07:00
2018-06-02T16:00:00-07:00
Where:
Village Home
5150 SW Watson Ave
Beaverton, OR 97005
USA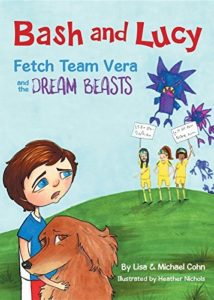 Award-winning mom-son authors Lisa Cohn and Michael Cohn  help educate others about kids' sensory integration challenges, as part of the June 2 release of  Bash and Lucy Fetch Tea Vera and the Dream Beasts, a children's book that features a sensory-sensitive boy (Bash),  the dog who helps keep him calm (Lucy), and a handful of girl-power relatives. The A book release party will be held as part of Village Home's Summerfest celebration.
Michael and Lisa were previously featured in Oregon Jewish Life in the December 2014 issue when they released their second book Lucy and Dash fetch Jealousy.
Michael and Moira, age 9, describe their sensory sensitivities—also known as sensory processing disorder—in a video, saying things like "wool sweaters feel like a bomb to me," and identifying the three stages of meltdown due to sensory overload. They also describe negative experiences at traditional schools.
Watch Michael and Moira here: https://youtu.be/l19sRLFNsMA
It's estimated that as many as one in six kids are affected by some kinds of sensory issue, according to the STAR Institute for Sensory Processing Disorder.  Kids and adults with sensory processing disorder tend to be over- or under-sensitive to different sensory stimuli, including noise, tastes, touch, and smells.
"Part of our aim with this book is to educate people about sensory processing challenges in kids and to debunk the myths of sensory integration issues," said Cohn, an award-winning freelance writer who covers parenting and other issues.
One myth is that sensory kids are autistic. Truth is, autistic kids often have sensory issues, but sensory kids aren't autistic. In fact, studies show that the brains of the two populations are different.
About 35% of gifted kids possess sensory challenges, according to the STAR Institute.
However, because their sensory challenges make these kids want to move around, they often can't sit still in class and will become disruptive.  That's why homeschooling is a good option for them. Michael and Moira attend Village Home, where they take a few classes at a  time and leave plenty of opportunity for calming exercise.
Says Lori Walker, founder of Village Home,  "Because Village Home offers classes for homeschoolers a la carte style, it is possible to just take one class, or many, depending on the child and their group learning style."
Lisa and Michael Cohn received three awards from Mom's Choice and USA  Best Book Awards for their first two "Bash and Lucy" books. They have "traveled" more than 540,000 miles to meet with students in 15 countries via Skype in the Classroom and are certified Microsoft Innovative Educators as a result of this volunteer work. They are founders of the Roving Reader Leaders club.
At the June 2 party, music will be provided by Mr. Hoo of the Alphabeticians. The Cohns will share a sensory toolkit — fidget toys, putty, books, gum, and other items that are calming for kids with sensory challenges.
Learn more about "Bash and Lucy Fetch Team Vera and the Dream Beasts" at www.BashAndLucy.com
For more information, contact Lisa Cohn, BashAndLucy@gmail.com or 503-577-0504.

---
---